This was my sec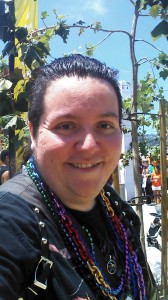 ond year attending LA Pride (third watching the parade), and it was great fun! I only caught a portion of the parade, and that's where I spent all of my picture-taking energy. It was, however, my first year attending the Dyke March on the Friday before the Pride festival proper.
To be brutally honest, the Dyke March, while pretty cool, was also somewhat underwhelming when compared to the throngs present during the next couple of days. This could be chalked up partly to practicality, as it IS held on a Friday night, after a lot of folks are getting off work, or need to leave early in order to attend. As a friend commented when we were marching, it's a bit ironic to be marching for lesbian visibility in the dark (considering that by the time the march got underway, the sun had set and it was in fact getting dark quickly). Still, I didn't regret going, and I hope to go again next year if my schedule allows.
I went to the Pride festival proper on Sunday, partly because I can get enough out of the festival in one day, and partly because I wanted to see the parade. The fact that EA had people marching in the parade was definitely relevant to my interests. I counted eight (nine if you count the child in the stroller) staffers marching, two of them cosplaying. I didn't catch the whole parade (I missed part of the beginning, and was restless well before the end, so I took off to enter the festival). I spent the whole afternoon wandering around the various booths. A lot of the usual fixtures were there: Human Rights Campaign, Equality California, Gay, Lesbian, Straight Education Network, NOH8 Campaign, and the LA Gay & Lesbian Center, to name a few.
I also discovered a few new groups of interest:
No-Kill Los Angeles – A campaign dedicated to ending the needless euthanization of healthy and/or treatable animals in the Los Angeles area.
The June Mazer Lesbian Archives – "The June L.  Mazer Archives is the largest major archive on the West Coast dedicated to preserving and promoting lesbian and feminist history and culture." I didn't know this existed prior to the Dyke March, and they definitely have my interest.
Bent-Con – "Bent-Con is a 501(c)3, non-profit organization created in 2010 and is committed to recognizing, celebrating, encouraging and appreciating LGBTQ and our (UnGay) Allies contributions to pop-culture and geekdom. Specifically, comic-books, gaming, sci-fi, fantasy and horror mediums from artists, writers, creators, publishers, directors, actors and producers that create works targeted directly to LGBTQ audiences and the larger realm of mainstream and underground pop-culture as a whole." I'd heard of this convention before, but wasn't able to attend last year. I had a chance to talk with one of the con staff members, and I'm excited about trying to attend this year.
I was also pleased to see a lot of companies and services I patronize either present with booths, or as sponsors of the event. I like knowing that the services I use support equality, and I'm willing to go out of my way to support companies that support me.
At the end of the day, I came home with a fair number of widgets, flyers, stickers, magnets, and a TON of rainbow beads like I'd just left Mardi Gras. And you know what? I'm looking forward to doing it all over again next year! Photos from this year's parade are behind the fold.