To make a long story short, my kitty boy needed a couple of vet visits–don't worry, he's fine–so I'm selling some original art to help pay the bills.
If you would like to purchase anything listed here, PLEASE EMAIL ME (kythera (at) gmail.com). If you are local within Caid, we can arrange for delivery. Otherwise, shipping can range from $6-12 for 2-Day Priority Mail with tracking.
Alternatively, if you don't want to buy anything here but would still like to support my art in general, you can become a patron on Patreon:
The following listings are for ORIGINAL ART. IMPORTANT: Pieces done in marker are very UV sensitive, and WILL bleach and fade if displayed in a place that gets bright light or sunlight. Originals will NOT have my copyright info watermark.
Click on a thumbnail to view a larger image.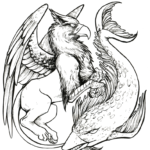 Dolphin and Gryphon (Talon-Crescent War gatebook cover)
Ink on acid-free paper
9 x 12 inches
$100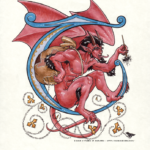 Titivillius
Ink and marker on parchment paper
8.5 x 11 inches
$300
SOLD!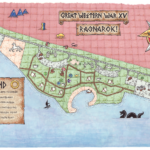 Great Western War: RAGNAROK! Map
Ink and marker on bristol
17 x 11 inches
$250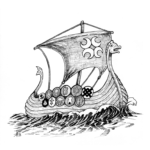 Great Western War: RAGNAROK! Ship
Ink on acid-free paper
9 x 12 inches
$100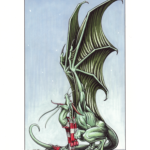 The Taste of Winter
Ink and marker on bristol
9 x 12 inches
$150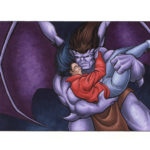 Catch
Ink and marker on bristol
12 x 9 inches
$150