Twenty years ago today, "Gargoyles" premiered on the Disney Afternoon.
"Gargoyles" came along during a rough time in my life, and spoke to me on a visceral level. As someone who has ever been the "other"–the freak, the weirdo, the oddball, the outsider, the monster–it showed me that the "other" is often the unseen and unsung hero. That the "other" isn't always alone. That, yes, being "other" is hard, but there ARE people who understand, accept, and embrace, and not "in spite of" the otherness.
And that was just the show. The fandom was my first true, broad support network, outside of my immediate family (and, honestly, the first fandom I was ever active in). Some people have moved on or grown distant, as often happens, but some people remain part of my extended chosen family. I found love for the first time, and learned about heartbreak and carrying on. It gave direction and a new kind of passion to my artistic skills. The fandom has taken me from one side of the 'States to the other, and to other countries–journeys I never would have taken otherwise. It helped me become the person I am now.
There are other shows I've been passionate about, both before and since. But none of them have literally impacted my life the way "Gargoyles" has. My love for this show wasn't–isn't–a phase, a fad, or a passing fancy. It's far too big for that.
That's the reason I still love "Gargoyles" so much after twenty years. That's the reason I have (the lesser-known version of) the Eye of Odin permanently inscribed on my skin. "Gargoyles" helped me get through my own time of darkness and world of fear.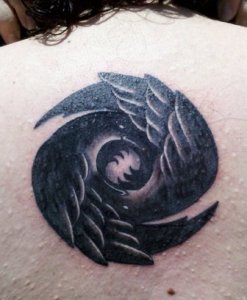 So, what's out there for anyone who's now having a fit of "Gargoyles" nostalgia? I present the following:
Official DVD releases
Graphic Novels – Canon stories that pick up where Season 2 left off
Fandom Stuff
---